Development of New Material Using Biological Engineering Technology
What is CBDS?
CBDS is cell-based drug screening system. It is a biological exploration system using a special cell strain manufacturing technology for controlling gene .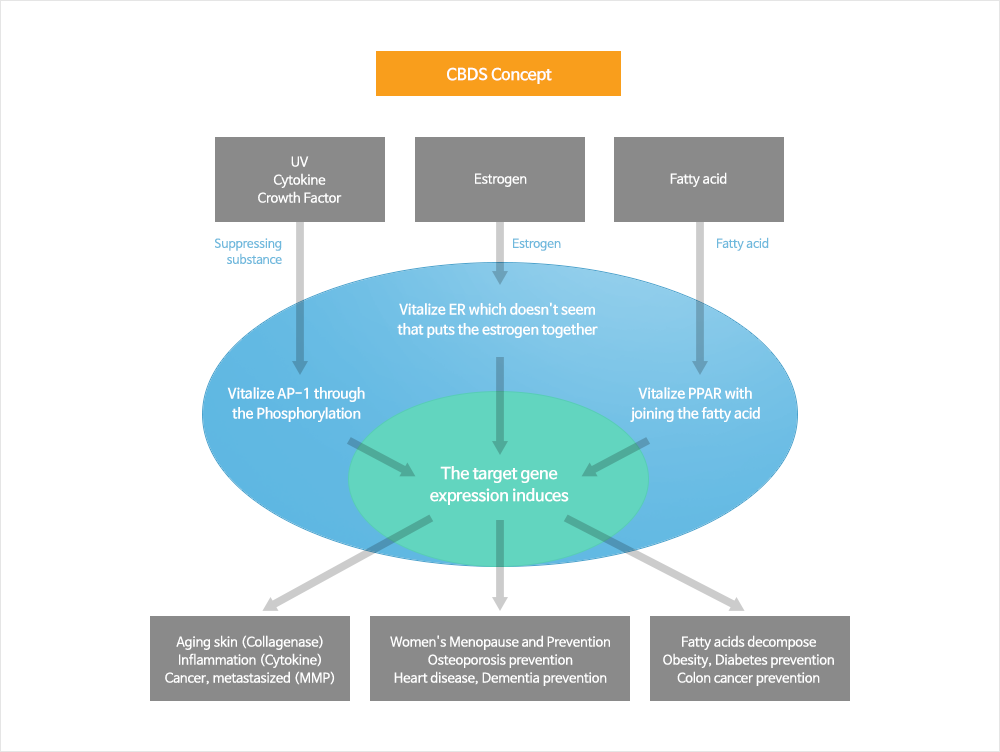 Business Direction
CHEBIGEN is to secure newly functional candidate substances by using the CBDS system, which has better functionality than the existing screening system, and establish the function of a new substance and a target gene in cooperation with related organizations.By establishing the derivatives technology, CHEBIGEN is building a Chemical Library and promoting the development ofanin vivo(cell-based drug) exploration system.
Difference from the Existing Screening System
Existing System (In Vitro)th>
Our System (In Vivo)
AP-1 repressor
Biochemical method that measures the activation of MEK, p38, MAPK, or JNK, a phosphorylation enzyme, which is important to the AP-1 activation
- HTS, typical method
Directly measures the tranional activation of AP-1 in a specially manufactured animal cell
- ExploresHTS under physiological conditions
Estrogen substitute
A substance combined with ER receptor protein is explored through a filter assay.
- Competition assay that uses radiolabeled estrogen
A substance combined with ER receptor protein is explored through a filter assay.
- Competition assay that uses radiolabeled estrogen
Fat bolism regulator
A substance combined with PPAR receptor protein is explored through filter assay.
- Competition assay that uses radiolabeled Wy-14643
Directly measures the tranional activation of PPAR in a specially manufactured animal cell
- ExploresHTS under physiological conditions
Development of New Materials and Medicines through the CBDS System